Sitting Pretty by Kameron Claire
About the Audiobook:
What happens when the hot bodybuilder wants to bend the curvy girl like a flexi-straw?
He's a personal trainer with a chiseled body who hustles in and out of the gym to take care of his mother and sister.
She's a confident curvy girl who runs a plus size online clothing boutique and YouTube fashion channel, using a three-day pass at the fitness resort.
She's everything he wants in a woman: smart, confident, and driven with luscious curves to hold on to.
Their attraction is instant and undeniable, but will she want him once she learns about his hustling?
It might be his past, but he sees no future without her.
Can he convince her to be his one and only, giving them their happily ever after?
Preorder the eBook:
Get the eBook
Kameron Claire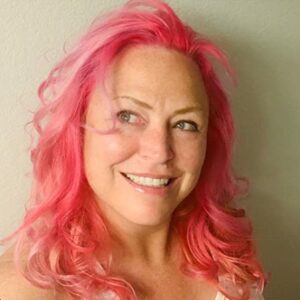 USA Today Bestselling Author Kameron Claire loves building worlds where heroes and heroines push, pull, and fight their way to the love and happiness they deserve. She writes full length and short, steamy romance with an emphasis on strong female characters—often in male-dominated roles—and the alpha men who know how to love and support kick-ass, take-charge women.
While she may not need him to save her, she wants him to love, support, and most of all, RAVISH her.