Texting Alerts
We want to text you up! Look below to select your Read Me Romance stalker level so we can keep you up to date on podcast happenings. Text that level code to 555888 and you're in! Be first to hear about our next lineup of 15 authors bringing you more free audiobooks!
---
FULL TIME STALKER
You have a shrine to Read Me Romance in your attic and you want text messages every time a book goes on sale, a new episodes is live…or when Lea burps. *1 text a day*
CODE → RMRstalker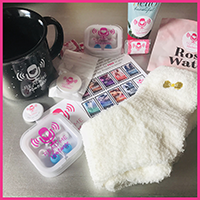 One person from this level will be picked each month to win a Read Me Romance Swag Stash…. this isn't filled with bookmarks. It's loaded up with all kinds of goodies. Note that boxes are always being updated and changed.
---
SLIGHTLY OBSESSED
You sing the theme song in your shower, but you'd rather only get alerts when a new episode is live (fine, we get it, you have a life, whatever). *2 text a week*
CODE → RMRobsessed
---
NOT THAT INTO US
You just want to know when an audiobook is available IN FULL on the podcast so you can binge. This is the age of Netflix, after all. *1 text a week*
CODE → RMRupdates
---
WHILE YOU'RE AT IT….
Alexa Riley & Tessa Bailey have Text Alerts too for their new releases. Know insistently when one of their books go live by sending a text to 555888 with their code!
Alexa Riley
CODE → AlexaRiley
Tessa Bailey 
CODE → TessaBailey
---
Having a problem getting signed up? Fill in the form below and we'll get you handled. Just let us know what level you want and your phone number