Podcast Episode 179.2 – PALPITATION by Ofelia Martinez
July 21, 2022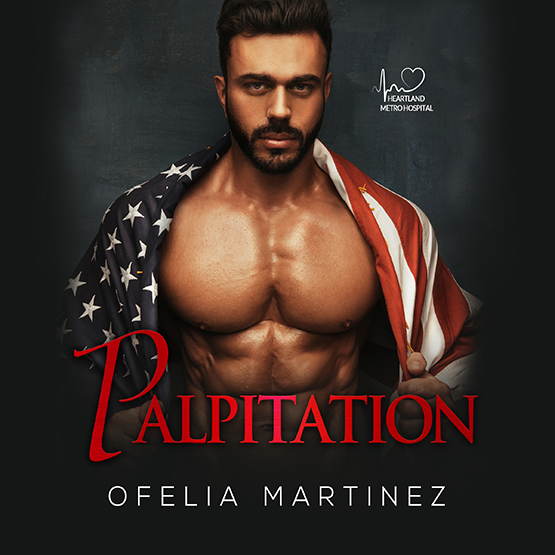 Our audiobook this week is PALPITATION by Ofelia Martinez
The kiss I stole from Leonardo Moreno on my eighteenth birthday must have been the worst kiss of his life because, within months, he enlisted in the army, and I never saw him again.
Talk about ghosting.
I did everything I could to forget the tall, dark, and handsome soldier with soulful, brown eyes. Instead, I focused on getting my medical degree and starting my emergency medicine residency.
When a family emergency leads me back home, the last person I think I'll see as a civilian is Leo.
Sparks fly when we reconnect, and this time, instead of pushing me away, he holds on tight.
Now all we have to do is keep us a secret from his best friend—my over-protective older brother.
GET THE eBOOK NOW: https://bit.ly/3RtzJsG
Ofelia Martinez: https://bit.ly/3yx8O6W
Giveaway: https://bit.ly/3awV9oc
FREE eBook: https://bit.ly/3nWKc2A
Heartland Metro Hospital: https://bit.ly/3IvIRsQ
Industrial November Series: https://bit.ly/3NZDzHj
Diagnosis Amor: https://bit.ly/3O3j5NI
Other Mentions
HOT GIRL SUMMER BOOK BOX – RMR Newsletter: https://bit.ly/2PlYuL7
Captive in the Dark
Undertow by Alessandra Torre
Kresley Cole
♥ ♥ ♥
RMR Website: https://bit.ly/3ifFIyw
Read Me Romance Merch: https://bit.ly/39JB8XG
Weekly New Release: https://bit.ly/30iDete
Follow Read Me Romance on Instagram: https://geni.us/uUVdVeY
Latest Alexa Riley Releases: https://bit.ly/3qrQpVS
Join Read Me Romance Headquarters on FB: https://geni.us/IdL7B
Find Alexa Riley on Instagram: https://bit.ly/2HGrxpQ
Alexa Riley TikTok: https://vm.tiktok.com/TTPdUryXr9/
Read Me Romance Theme Song by L.B. Ballard
Podcast Production by Lola
Podcast: Play in new window
Subscribe: Google Podcasts