Podcast Episode 170.1 – SADDLED by Shaw Hart
May 10, 2022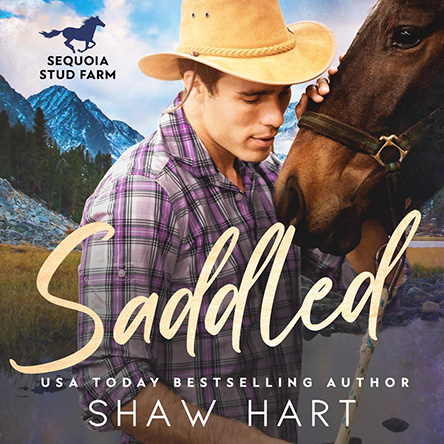 Our audiobook this week is SADDLED by Shaw Hart
She's a princess locked away in a wooden tower.
Twyla Grace should love her life.
She has a nice house, a wealthy father, and just graduated from college.
What more could a girl want?
For Twyla, the answer has always been Seth.
He's always wanted to be her white knight.
When Seth Avery first met Twyla, he instantly knew two things.
One, she was the one for him, and two, she was also way too good for him.
When she left, he let her go. He thought that college was what she wanted, and he just wanted her to be happy.
Do the Princess and the Pauper only get their happily ever after in fairy tales?
Now that she's back in Sequoia though, will Seth be able to let her go again?
GET THE eBOOK NOW: https://amzn.to/3LPpOdN
Sequoia: Stud Farm: https://amzn.to/3w9z0D8
Follow Shaw Hart on Amazon: https://amzn.to/3KFXn0N
SHAW HART: https://bit.ly/3kJ6l2G
More Shaw Hart eBooks: https://amzn.to/3KFXn0N
Giveaway – Signed Paperback: https://bit.ly/38SIGtM
♥ ♥ ♥
NEW AR eBOOKS
TEASING THE BEST MAN: https://bit.ly/3vDxIjI
SEALED WITH A KISS: https://bit.ly/3v0Mlx9
♥ ♥ ♥
Other Books Mentioned
TOUCH BUNDLE by Cara Dee
♥ ♥ ♥
RMR Website: https://bit.ly/3ifFIyw
Read Me Romance Merch: https://bit.ly/39JB8XG
Weekly New Release: https://bit.ly/30iDete
Follow Read Me Romance on Instagram: https://geni.us/uUVdVeY
Latest Alexa Riley Releases: https://bit.ly/3qrQpVS
Join Read Me Romance Headquarters on FB: https://geni.us/IdL7B
Find Alexa Riley on Instagram: https://bit.ly/2HGrxpQ
Alexa Riley TikTok: https://vm.tiktok.com/TTPdUryXr9/
Read Me Romance Theme Song by L.B. Ballard
Podcast Production by Lola
Podcast: Play in new window
Subscribe: Google Podcasts | RSS