Podcast Episode 163.2 – GIRL'S NIGHT OUT by Ember Davis
March 17, 2022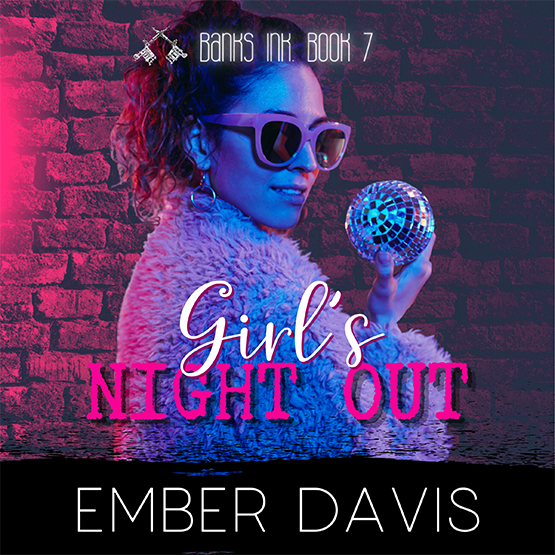 Our audiobook this week is GIRL'S. NIGHT OUT by Ember Davis
AMELIA
After four years of having everything that I've ever wanted, including the love of a man I never thought would look at me twice, I still have doubts sometimes.  I know Beckett loves me; he shows me every day.  Still, how long will it last?
Who will I be if the day comes when he no longer wants me?  What happens to the rest of our family if that day arrives?  Who will be responsible for everyone then?
A girl's night out might help some of the stresses and worries fall away.  I should have known my husband, my own personal caveman, wasn't going to simply let me out of his sight.  Not in the dress I'm wearing where other men can see me.
It's a good thing he's so sexy or I might find him infuriating.  Turns out, he knows exactly what I need, and it isn't a girl's night out.
BECKETT
My wife is a lot of things, including transparent when it comes to her thoughts and emotions.  I can read her as easily as I can love her fiercely.  I know she's been battling her own inner demons, the ones which tell her not to get too comfortable and to prepare for the worst.
She forgets that I will slay her dragons because it wins me the heart of the only woman I want, the only woman who is mine.  She's been stuck in her head lately while giving too much of herself to everyone else.  It's my job to take care of her and I'm damn good at it.
A girl's night out isn't what she needs.  She needs a little time away from the kids, from the family, from all the things she thinks she is responsible for.  I'm not the only one crashing the party, but when I cart off my wife, we're not going home.  I have plans for her which will get her to shut off her brain and kill her doubts.
It's time she and I had a little heart-to-heart.  Being naked during it is only a bonus.
ebook of Girl's Night Out: https://amzn.to/3IZtN69
MORE Ember Flint eBooks: https://amzn.to/3sXSLxi
Ask Me to Stay: https://amzn.to/3sY5dgp
After the Rain: https://amzn.to/3KtuBk8
Banks Ink Series: https://amzn.to/3J0ilY9
ALEXA RILEY TikTok: https://vm.tiktok.com/TTPdUryXr9/
Other AR Books Mentioned
An Avalanche of Love: https://bit.ly/3HSMAyV
Flight Risk: https://bit.ly/3KugKtZ
Guarding His Obsession: https://bit.ly/3pRTBts
Not Yet: https://bit.ly/3KymClO
Other Books Mentioned
FIGHT FIRE WITH FIRE by Rochelle Paige
A TREACHEROUS TRADE by Kerrigan Byrne
Beverly Jenkins
ALWAYS BEEN YOU by QB Tyler
PRISONER OF MY DESIRE by Johanna Lindsey
THE LAST ELIGIBLE BILLIONAIRE by Pippa Grant
A WHIRLWIND MARRIAGE by Helen Brooks
AFTER THE BILLIONAIRE'S WEDDING VOWS by Lucy Monroe
RMR Ads
THE GIRL NEXT DOOR by Emma Bray: https://amzn.to/3CssFWo
THE FAE KING'S CURSE by Jamie Schlosser: https://amzn.to/3CwJSOz
RMR Website: https://bit.ly/3ifFIyw
Read Me Romance Merch: https://bit.ly/39JB8XG
Weekly New Release: https://bit.ly/30iDete
Follow Read Me Romance on Instagram: https://geni.us/uUVdVeY
Join Read Me Romance Headquarters on FB: https://geni.us/IdL7B
Find Alexa Riley on Instagram: https://bit.ly/2HGrxpQ
Read Me Romance Theme Song by L.B. Ballard
Podcast Production by Lola
Podcast: Play in new window
Subscribe: Google Podcasts | RSS