Forbidden by Lauren Smith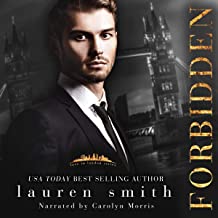 About the Audiobook:
Kat Roberts has a plan. Love doesn't fit into it.
Move to England.
Study at Cambridge.
Become a history professor.

See? No room for dating or love. Life is going exactly according to plan….until she met him one snowy night in an English pub. Tristan Kingsley, the future Earl of Pembroke. He's as gorgeous as a god, funny, sweet, and oh-my-god that accent… With a chiseled jaw, bewitching eyes, and a voice as smooth as a glass of brandy…he's every woman's dream. He tempts Kat to leave her carefully laid plans behind as she falls head over tea kettle for this British playboy.

Tristan Kingsley went into the bar that night to avoid the duties of his future as a titled lord. When a gorgeous American girl kisses him on a dare from her friends, that kiss turns his world upside down. Oh, he's used to having exactly what he wants: women, money, notoriety. But now he wants Kat. In his arms, in his bed—and the more time he spends with her, the more he wants her in his life. Tired of shallow, social climbing English debutantes, Tristan can't get enough of his brilliant, sweet Yank.

But not everyone is happy with the situation. His father, the Earl of Pembroke, has other plans for Tristan, and getting rid of Kat is number one on the list. If you thought this was a fairytale of a girl finding her Prince—er, Earl, and living happily-ever-after…then prepare yourself for one heck of an American Revolution.
Narrated by Carolyn Morris
Preorder the eBook:
Download it now!
LAUREN SMITH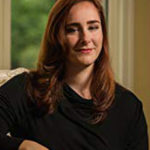 USA TODAY Bestselling author LAUREN SMITH is an Oklahoma attorney by day, who pens adventurous and edgy romance stories by the light of her smart phone flashlight app. She knew she was destined to be a romance writer when she attempted to re-write the entire Titanic movie just to save Jack from drowning. Connecting with readers by writing emotionally moving, realistic and sexy romances no matter what time period is her passion.
Love in London