Knew You Were Mine by Angela Maria Hart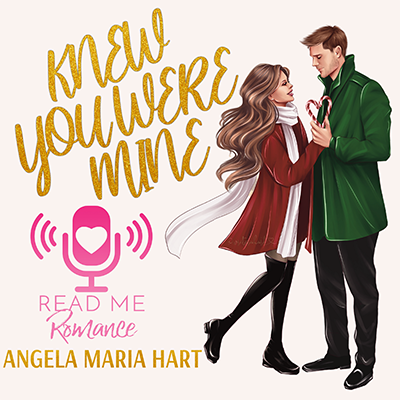 About the Audiobook:
What happens when you are snowed in with the man you have had a crush on since childhood? You remind yourself that he is your best friend's older brother. But she's out of town…and he's sweet. He makes hot chocolate and looks really really good shirtless. What's a girl to do?
With her extended family in town for the holiday season, alongside her already full house, Natalie hasn't had a moment of peace. Her best friend, Hope, plans to take advantage of the long weekend with her sexy new boyfriend in the city. Knowing that her house will be empty, unlike Natalie's, Hope leaves her the keys. Natalie is thrilled to have four full days to herself…until Hope's older brother, Clark, stops by.
First, they get snowed in together. Then, he cooks her dinner. After that, they have to share a bed. What's next? Is it finally time to tell Clark that she's been in love with him since they were children? What if he laughs? What if he rejects her? What if Hope gets mad and she loses her best friend? What if her feelings ruin everything? Natalie is so busy worrying, she never stopped to think…what if Clark loved her back the entire time?
Together they might just get the Christmas presents they've always wanted but never had the courage to ask for.
Originally from Massachusetts, Angela has lived in Washington, D.C. for the past eight years earning two master's degrees in Communications, Culture, & Technology as well as Media, Technology, & Democracy. Currently, she is working on her PhD; her dissertation is on the romance genre fandom in the digital age. When not fangirling over romances, you can find her sleuthing with YouTube's first Cozy Mystery Book Club. Right now, she's either throwing a stuffed animal for her teacup Maltese, Max, or working on something new to celebrate her love of literature. Sometimes she's doing both at the same time. There's also probably a caffeinated drink nearby.