Undeniable by Aleatha Romig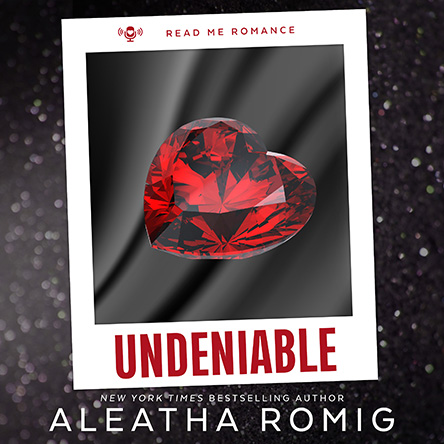 About the Audiobook:
Forbidden love…is undeniable.
When she was younger, like all little girls, Sophie Hawkins believed in fantasies. She believed in happily-ever-after and that one day her prince would come. What made Sophie's dreams a bit different was that the man of her dreams wasn't a fictional prince but her best friend's dad.
Matt was handsome and nice, the kind of man every woman would want.
Time passes, and through the years, Sophie's reality changes, yet her attraction and memories of Matt Hamilton never fade. Where boys and men are concerned, Matt remains her gold standard.
When his daughter was young, Matt Hamilton had it all: a family and success.
With the ticking of the clock and changing of the calendar, seasons pass and situations adjust. Business success remains, but personally, his world changes…until the day fate sets the undeniable in motion.
Sophie was a sweet little girl, his daughter's best friend, and a ray of undeniable sunshine. That was before. Now she's more. She is a grown woman.
Who can deny the undeniable?
Have you been Aleatha'd?
Undeniable, part of the Indulgence series of stand-alone steamy stories, will heat your ereader and make you hot and bothered. Undeniable is a fun forbidden-love story that will whisk the reader away to a time when fantasies could come true.
Narrated by Daniel James Lewis & Elle Sonali
Preorder the eBook:
Undeniable by Aleatha Romig
Aleatha Romig
Aleatha Romig is a New York Times, Wall Street Journal, and USA Today bestselling author who lives in Indiana. She grew up in Mishawaka, graduated from Indiana University, and is currently living south of Indianapolis. Aleatha has raised three children with her high school sweetheart and husband of over thirty years. Before she became a full-time author, she worked days as a dental hygienist and spent her nights writing. Now, when she's not imagining mind-blowing twists and turns, she likes to spend her time a with her family and friends. Her other pastimes include reading and creating heroes/anti-heroes who haunt your dreams!